MADE TO ORDER KITCHEN AND
BATHROOM CABINET DOORS IN THE MOST
POPULAR STYLES
COLOR OPTIONS FROM CLASSIC TO MODERN
View the available color options of each cabinet door profile.
Click Here to view available colors in each particular style.
OUR 3-WAY SATISFACTION GUARANTEE
Your satisfaction is our goal. Our 3-Way Guarantee includes:
100% refund within 30 days of installation
5-Year Warranty with free replacements if product fails during normal use
Lifetime Warranty on Hinges and Hardware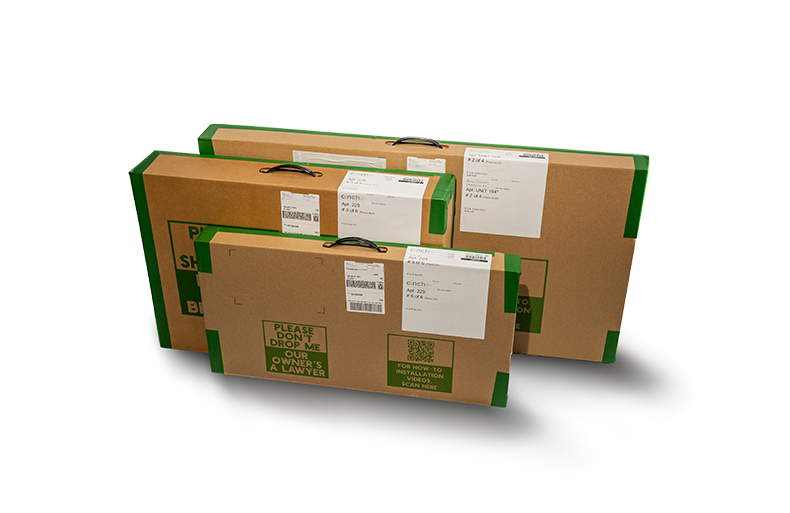 REFACING KITS FOR
A FAST AND EASY
CABINET MAKEOVER
Our all-in-one kit comes with everything needed to renovate kitchen and bathroom cabinets.
A variety of colors and door styles
Standard and soft-close hidden hinges in multiple overlay
A broad selection of knobs and pulls
Primer and paint that match our doors
Screws, rubber bumpers, false front brackets, touch-up materials, and all items to finish the lob
Jigs to easily and accurately drill doors for hardware
HOW OUR DOORS ARE MADE
Using advanced manufacturing technology, we have created doors that have:
Realistic wood texture
Front and back are a perfect match
Made in the USA
Heat resistant adhesives
Waterproof easy-to-clean film
Assembled with glue and nails from 5 separately machined components
Face of the doors are flush with crisp, square corners
COSTS OF REFACING
We often get asked how much a refacing project costs. While the answer is usually "it depends," here is a general guideline:
Average cost: $30-40 per custom door or drawer front
Includes everything needed to complete renovation
Includes freight, but not taxes
TESTIMONIALS
"I just wanted to take a moment to say thank you guys for everything your company has done us here at Prime. The extra effort that Jennifer & Jonathon and all the rest of you there have given us has been extremely helpful. Not to mention your pricing has helped us save a quite a few dollars. I know I can be a little irritating every once in a while, yet you guys always come thru for me. I consider myself lucky to have ran into you guys at the NAA event a couple years ago, and took a chance to start doing business with you guys. We really appreciate everything you guys have done so far, and look forward to much more business moving forward."
"Just wanted to let you know how much I have appreciated your help with getting us the doors on time and promptly. We would have missed our move in dates without everything your production people do to make it happen.
I know that your crew must have had to let other work slide on our behalf so you must be feeling swamped right now.

The team thanks you and so do I.

I can't stress enough that we couldn't have been so successful without all of your efforts to help."
"We were impressed by their knowledge and expertise, and Qwikkit's willingness to work with us on our specific challenges and issues. They really understand partnership."
"With Qwikkit, we know we are always getting consistent, high quality cabinet fronts. We know we can count on Qwikkit to deliver each order on time, so that no unit turn is delayed. But what truly makes Qwikkit such a valuable industry partner is their attentiveness to our specific needs as a company and their flexibility to help us meet our goals."
"Qwikkit has been a great renovation partner of Timberland over the last few years. They are fast, affordable, and have customer service next to none! I wouldn't recommend any other company when it comes to cabinet refacing."
"We have been using Qwikkit for about 18 months now for our cabinet door projects. Tanner and his team are fantastic to work with and the product is beautiful. From the easy order form to the presorted delivery that shows up quick, they really have put the total package together. Qwikkit will continue to be a part of our interior renovation program for many years to come!"
"We have a lot of competition, but when we started using Qwikkit kits, and our occupancy went from 87% to 98% in three months. We filled up even faster than I hoped. And we are still averaging more than $2,000 monthly rent."